2019 - Black Dog on Lead & MATES in Construction
March for Mates - 13th October 2019
WE INVITE YOU ALL TO HOP ON BOARD AND JOIN US AT THIS YEAR'S WALK – "MARCH FOR MATES"
The Black Dog on a Lead Walk is BACK AGAIN in 2019. This year will be our 5th YEAR and we are especially excited to be joining forces with MATES In Construction for the "March for Mates".
MATES In Construction are an organisation with an industry-led approach to an industry problem, helping construction workers on the ground and in their workplaces seek help and get better. MATES provide suicide intervention support and mental health awareness training to construction workers on their job site.
Why… The stats for male suicide are alarming - every week nearly 36 Australian men take their own lives; several of them will be construction workers who are six times more likely to die from suicide than an accident at work. 190 construction workers take their own lives in Australia each year.
Since its inception MATES has trained over 170,000 volunteers on construction sites across Australia to recognise the signs a co-worker is in need of support and to know what to do when they see those signs. The MATES program has also provided personalised case management support to over 8,000 construction workers identified as in need of support. However, with over 1 million construction workers in Australia, there are many who are currently not getting access to the support they require.
The MATES in Construction program is based on the simple idea that "suicide is everyone's business" and that everyone in the industry must play their part!
2018 - Black Dog on Lead & The Kai Eardley Fund
Talk Your Truth, Walk for Youth
In 2018, we had the honour of partnering with Kai Eardley Fund for "Talk Your Truth - Walk For Youth". The Kai Eardley Fund or "Kai Fella" was born out of the tragic suicide of 20 year old Kai Eardley who we paid tribute to at the walk. Kai Fella's mission is to create positive change for the mental health of today's youth.
Despite the weather, the turnout on the day was fantastic which just goes to show the spirit and resilience people have when it comes to a good cause! We kicked off with the sweet sounds of Sandpiper Music, some formalities and then most certainly the highlight of the day - the speakers.
All 3 speakers were amazing, the first being Kai's mum, Claire, who showed incredible bravery in conveying that out of great tragedy can come great change. Up next was Tom Bell, founder of the Tomorrow Man Program which provides programs in schools focusing on disrupting stereotypes and strengthening emotional muscle. Finally, we had one of our own, Niamh Mangan step up to the plate.. a huge, albeit somewhat scary moment for her as she had never spoken publicly about her mental health struggles. Safe to say, she had everyone in tears afterwards and commending her on her bravery, resilience and passion for mental health awareness. The day was rounded out by the funky sounds of PACIFIC!
2017 - Black Dog on Lead & Sirens of Silence Charity
Walk for our '000' Heroes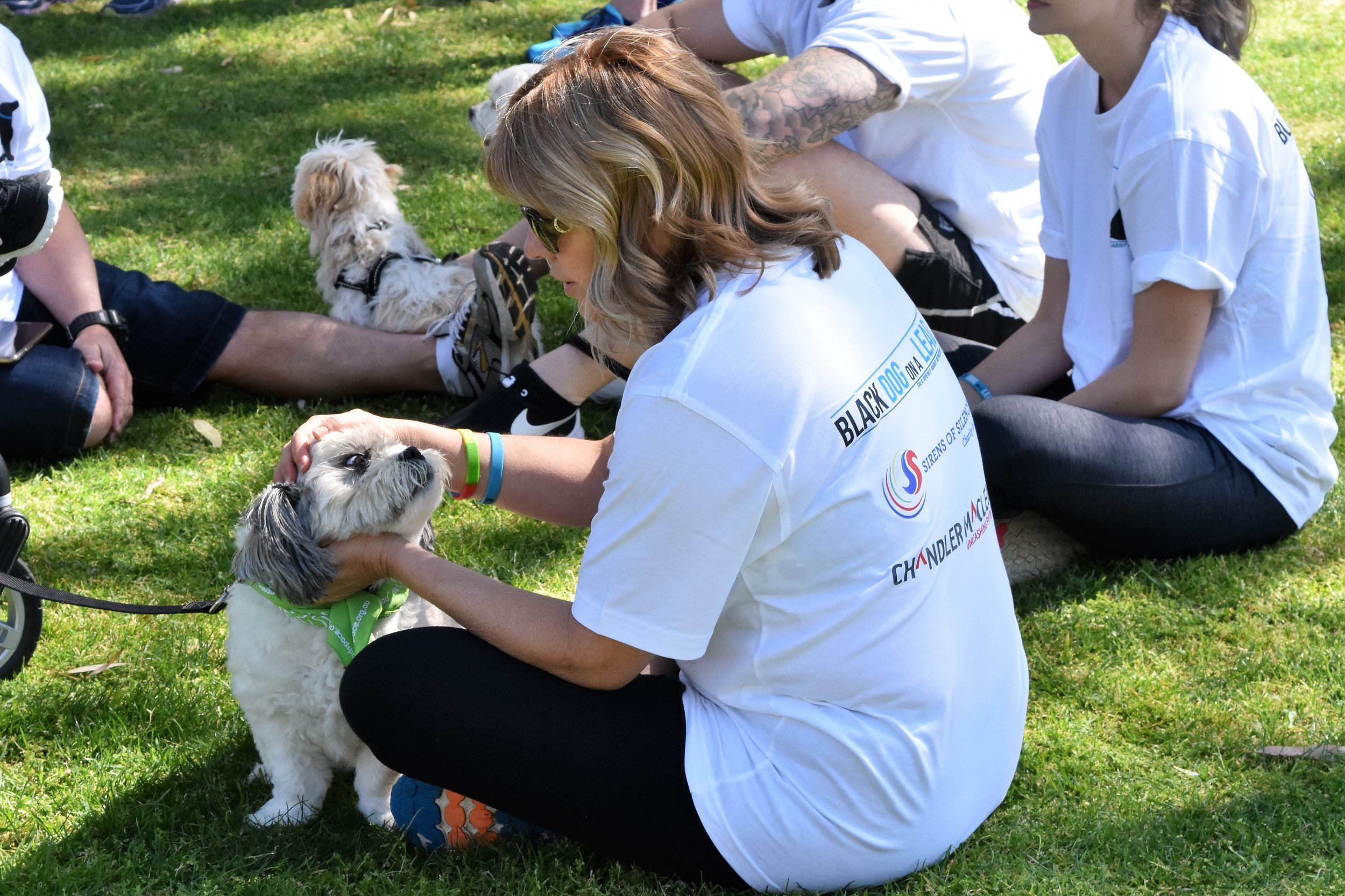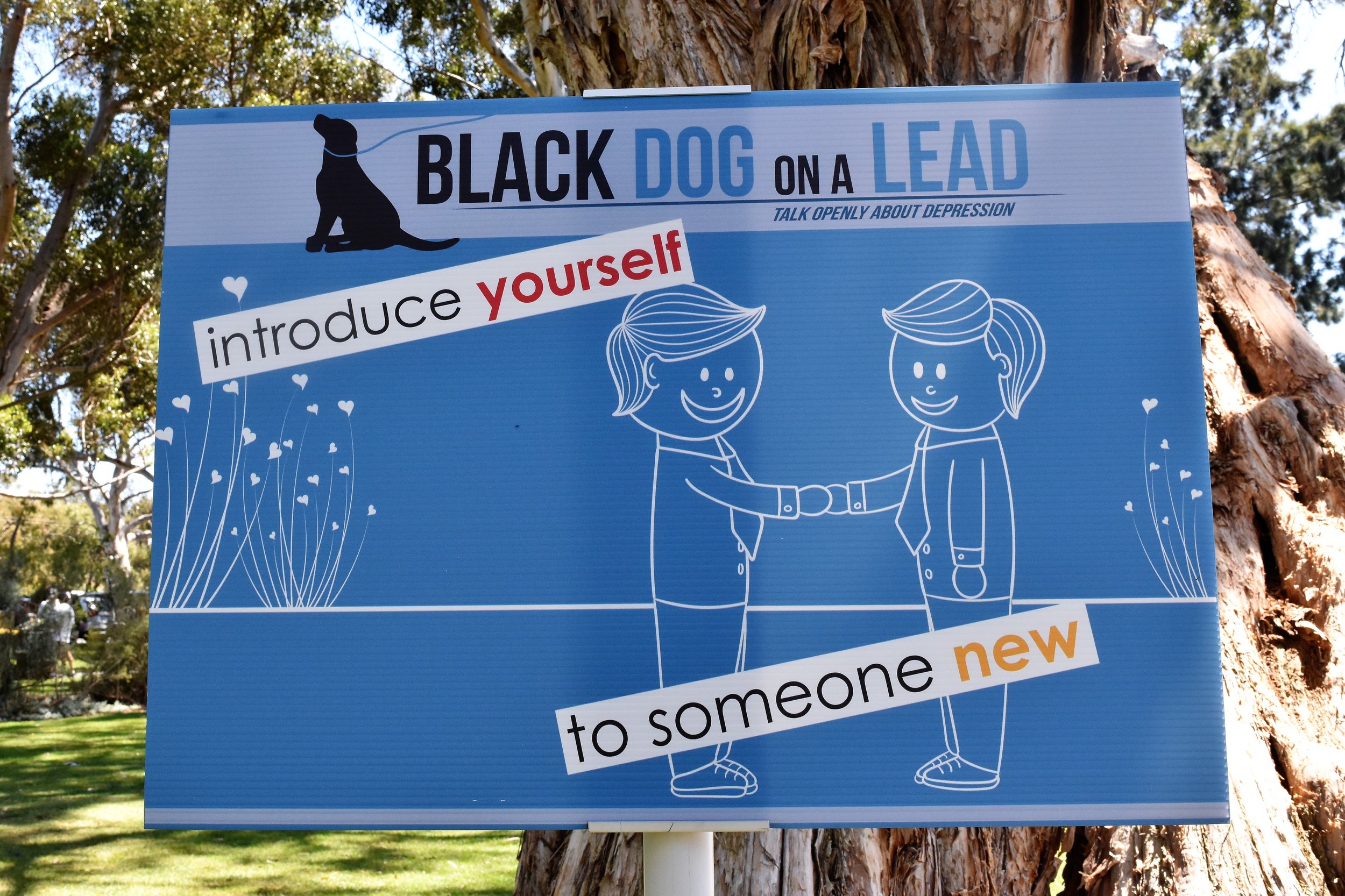 In 2017, we joined forces with a fantastic organisation called Sirens of Silence Charity (SOS) for the Black Dog on a Lead Walk for our '000' heroes. SOS is a charity that focuses on mental health in the emergency services. Their aim is to support all emergency service personnel to engage with each other in creating a culture of change to remove the social stigma that has long been associated within this industry.
The walk was our biggest to date with almost 600 people in attendance, all of who were encapsulated by the amazing stories shared by members of our emergency services. Again, there wasn't a dry eye in the house afterwards. The walk was also a great one for the kids with police cars, bikes, ambulances and fire-engines on show. We would have to say that given the overwhelmingly positive response, this was the walk that made us believe, along with many others, that it only takes a few individuals to make a huge difference…
2016 - Black Dog on a Lead & Headspace
In 2016, we partnered with HeadSpace Fremantle for our second walk. Again, it was a hugely successful day with over 500 people in attendance and $10,000 raised. The day began with some great acoustic tunes from Ollie Halvorsen on the guitar. Soon after we were into the formalities with Massimo sharing his enlightening experiences over the previous year, being Black Dog's first and a year since he had shared his story at the walk in 2015! The most memorable part of the day though was when Jason Nelson "The Kilted Rogue Runner" got up on stage and mustered up the courage to talk openly about his struggles and experiences with mental illness. After he had finished, there wasn't a dry eye in the house and the ensuing 6km's felt like a 'walk in the park'. Again it was Ollie on the guitar but this time joined by a few of his Vorsen band members who 'rocked out' for the returning walkers who continued their conversations into the early afternoon…
2015 - Black Dog on a Lead & Beyondblue
Our inaugural walk in October of 2015 was a great success with approximately 350 people attending and $15,000 raised for Beyondblue. We didn't know what to expect for our first walk, but the turnout was amazing and so too the love and support received from everyone that came along. The day started with some fun and light hearted music from Nikki Dagostino better known as 'Little Miss Squeezebox' who was entertaining the crowd with her incredible piano accordion skills. Things then got a bit more serious with Massimo and Ale` sharing their stories and battles with mental health. By all accounts this was the most memorable part of the day and whilst they were talking, you could hear a pin drop! Then, after a quick warm up, 350 odd participants lined up at the start line and set off for the 6km walk. Seeing 350 people walking in the same t-shirt, for the same cause was a truly memorable site. As participants rounded the lake and crossed the finish line they were greeted with the smooth sounds of Ollie Halvorsen on the guitar and a sausage sizzle to make sure they didn't go home hungry! All in all the day was a truly special one; an idea of a few individuals that culminated in something bigger and more powerful that they could have imagined… and with that.. the "annual" Black Dog on a Lead Walk was born!